What a fun time of year. The next five weekends, I have really fun plans. Get a load of this:

Tomorrow, Mom and friends will be here to spend a fun weekend out and about. We have dinner reservations at a new restaurant I have been eager to try, and beyond that I have no idea what we will get into. There are BOYS in this group so I can't play the pedicure card... stay tuned to see what we come up with.

NEXT weekend, my beautiful friend Kathryn is coming to visit for the first time ever. The last few times we've gotten a picture together, she's said I can't post them online, so how about this one instead? More than TEN years ago at high school graduation. This picture makes me smile. Isn't she pretty?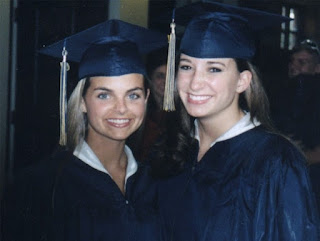 Then the NEXT weekend, my sister and brother-in-law are driving up (so much more fun to say than FLYING down) for some Nashville fun. There's a convention in town that Jamie wants to attend while he's here, so Jennie and I will do something (pedicures) while he's conventioning and then we'll all go play.

Just added to the schedule: going to the lake the NEXT weekend with these crazy kids and I cannot wait. I haven't been to a lake in YEARS, so that's plenty appealing, but any time the four of us get together, good times are had. It's going to be a blast!

And the next weekend, I think I will be heading to Birmingham! Woohoo!

Lots of fun things to look forward to! I can't remember the last time I had five free weekends in a row.